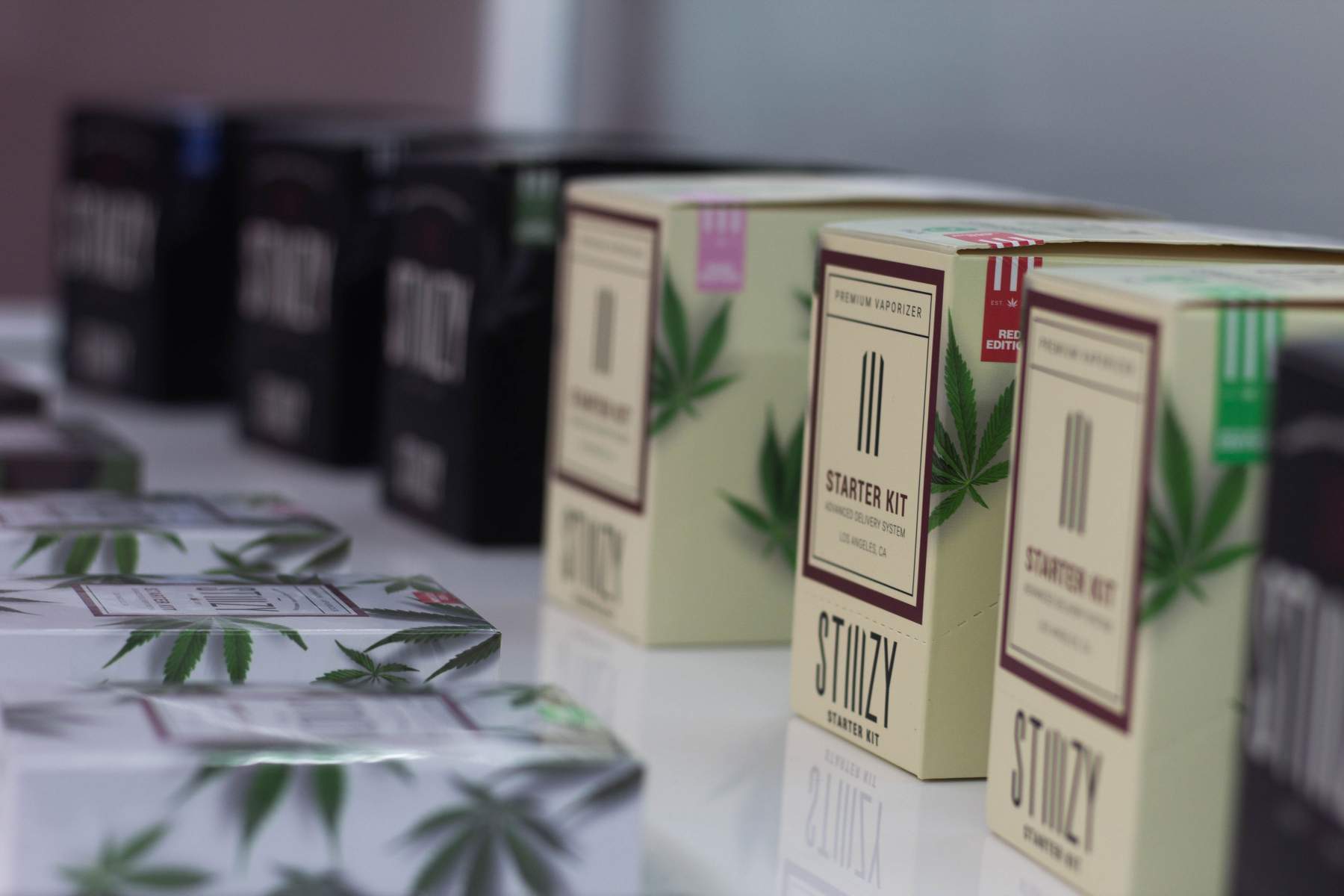 Your Guide to Cannabis Vape Cartridges
Discreet, portable, and potent, it's no surprise that cannabis vape cartridges are immensely popular. Whether you've a long-time flower lover or you're new to cannabis altogether, vape carts can be just the right product to suit your needs. This blog tackles all aspects of vape cartridges, including how they work and what you can buy at the dispensary, so you can make the right choice for your next vape sesh.
What are cannabis vape cartridges?
Often referred to as vape carts, vaporizer cartridges are small containers with a mouthpiece that contain concentrated cannabis oil. You'll find a few designs on the market, including a simple cylindrical shape outfitted with a universal connector and others that are designed solely to work with companion batteries, like Pax Era pods. You'll also find disposable units that include the concentrate and the battery as one piece.

Most come pre-filled and contain 0.5 grams to 1 gram of cannabis concentrate, such as diamonds or live resin. They feature a mouthpiece on one end for inhalation and a connector on the other side that attaches to the battery.
Why try cannabis vape cartridges?
Here's why you might want to add vape carts to your routine:
Ease of use:

 Vape carts are simple. You don't need to grind, roll, or search for a lighter. They also don't produce messy ash. Just pick it up, inhale, and be on your way.
Less smell

: If you don't want to draw attention as you consume, a vape cart may be just the right choice. Since the flower doesn't 

combust

, or need to be set aflame like a joint or a blunt, they produce much less of a small. Any aroma produced from a vape cart doesn't stick around for long, either.
Portability:

 

Small and lightweight, vape carts are easy to stash in a bag or a pocket. And since they don't require a bunch of accessories, they're quite simple to carry around. Simply take it out, activate it, inhale, and put it back.
Potency

: Since the oil inside a vape cartridge is a cannabis concentrate, it offers a higher percentage of THC and other cannabinoids than flower alone. You'll need to consume much less to achieve the same effect.
How do vape cartridges work?
Vape carts require a battery to operate, which delivers an electrical charge to a heating element inside the cartridge that vaporizes the oil. Depending on the battery you choose, you may have a single temperature setting, a handful of settings, or access to a wide range of temps through an app. These temps are important, as overheating the cart can affect the oil's flavor. 
While some vape batteries turn on automatically when the user inhales, others use a push button to turn the heating element on and off. Either way, the end goal is the same: The heating element inside the cartridge converts the concentrate to vapor. Once vaporized, you can inhale through the mouthpiece for a potent blend of cannabinoids that take effect almost immediately.
Types of cannabis vape cartridges
There are a few kinds of vape carts you might encounter in a dispensary. Each type of vape cart may contain a variety of concentrates, including distillate, CO2 oil, live resin, or THCA diamonds, but their basic function remains the same regardless of what type of cannabis extract they contain. 
Generally, you'll find three main types of vape carts:
510 thread vape carts
510 thread cartridges are concentrate-filled cylinders that come with a mouthpiece attached to one end and a 510mm thread on the other. This thread is what connects your cart to the battery.
These are the most common form of vape carts on the market and can be easily screwed into any compatible 510-thread battery, which serves to power a heating element in the cartridge to vaporize the cannabis oil. Common 510 thread vape cart brands available at Iconic Wellness include Monster Xtracts, Terpene Tank, and Light Sky Farms. 
Vape pods 
Pre-filled and ready-to-use cannabis vape pods are one of the most convenient ways to vape cannabis oil. Vape pods like Pax Era pods or Monster Xtracts are formulated to fit a specific battery and are generally effortless to use — just pop them into the device and inhale!
Pods can be filled with cannabis oil, distillate, or wax. Just like other types of vape carts, many are known to be rich in terpenes, offering exceptional flavor. However, pods are usually not compatible with any other type of battery besides the one they were designed to work with.
Disposable vape pens
A disposable vape pen consists of a pre-filled vape cart attached to a non-rechargeable pen. Usually, the vape cart is contained within the disposable device, unlike a 510 thread vape cart which can be attached and detached from the battery. Disposable vapes are an excellent option for weekend trips or beach outings when you know there won't be a charger handy. Iconic Wellness currently offers Breeze and Trucentta LLC disposable vape pens. 
How are vape cartridges made?
Vape cartridges can be loaded with one of several different kinds of extracted oils. Cannabis vape carts are often made with distillate, live resin, CO2 oil, or THCA diamonds.
Distillate:

 

Distillate is a purified cannabis oil made by separating the various compounds of cannabis extract to leave behind pure THC (or another cannabinoid, such as CBD). The result is a very potent oil that may contain 90% or more of that particular cannabinoid.

CO2

 

oil:

 

CO

2

 cartridges offer flavorful terpenes and robust cannabinoid profiles. CO

2

 cartridges generally contain less terpenes than live resin but still offer significant levels of cannabinoids and some terpenes. In some cases, terpenes may be added back into the cart to mimic a certain cultivar or help create a specific experience.



Live resin:

 While often consumed with a dab rig and torch, live resin can also be put in a vape cartridge. Live resin carts are favored for their high levels of terpenes, which make for a uniquely flavorful experience.
THCA diamonds:

 

You may also find vape cartridges that contain THCA Diamonds. Typically enjoyed by those with very high tolerances, THCA Diamonds are one of the purest THC concentrates and contain up to 99.9% THC when heated. 
Beyond the various types of oil contained in a vape cart, manufacturers may add terpenes into extract following the extraction process. Because most terpenes boil off quickly at relatively low temperatures compared to cannabinoids, many vape carts lack the original flavors of the strain from which the oil was extracted. As a result, many vape cartridge manufacturers will deliberately add more terpenes (either from cannabis plants or other plants) to enhance the flavors. In some cases, terpenes may influence the therapeutic effects the oil offers consumers, as well.
Vape cartridges get the job done
Vape carts are a mainstay at the dispensary, and the right dispensary offers lots of safe and effective choices from great brands. At Iconic Wellness, we know the importance of high-quality, reliable cannabis products. Visit an Iconic Wellness location near you to shop for the best vape cartridges in the Michigan area. 
You can also sign up for rewards to receive special deals on all brands and vape cartridges. At Iconic, vape carts are 15% off every Friday across all locations – head to our shops to snag a great deal!